Error message after activating FotoStation: No valid license for FotoStation is found
Last updated
Problem
After activating FotoStation 8.0, the following error message is shown: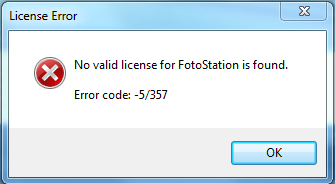 Cause
You have likely used a FotoStation Pro or FotoStation Client product key to activate, while you are trying to start FotoStation 8.0, which is a different product.
Solution
Alternative 1: If you have a valid product key for FotoStation Pro 8.0 or Client 8.0, installers for these can be obtained on the FotoWare Customer Portal. If you do not have an account at fotoware.com yet, learn how to sign up and create one.
Alternative 2: If you have indeed purchased FotoStation 8.0, you need to use a valid FotoStation 8.0 product key to activate it.
Alternative 3: You have successfully activated FotoStation 8.0, but the version you are trying to run is FotoStation Pro or FotoStation Client. You need to download FotoStation 8.0 from http://www.fotostation.com, as FotoStation Pro and Client are not compatible with the key you have purchased.