Uploading files from an iPhone or Android device
Last updated
You can upload files to FotoWare using the FotoWare Mobile app (once you have a Wi-Fi or mobile network connection). You can upload pictures or video clips stored on your device, or you can take a picture or record a video clip and instantly upload it to a FotoWeb archive.
To do so:
Select the Upload icon on the main screen (highlighted in red below).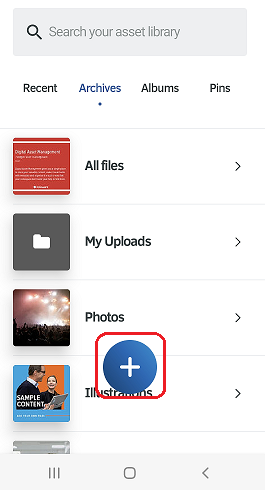 Select UPLOAD FILES, TAKE VIDEO, or TAKE PHOTO.
If you select UPLOAD FILES, locate and select the file(s) you want to upload and select Done. Select Add more to add more files, if necessary.

If you select TAKE PHOTO or TAKE VIDEO, the camera opens for you to take the photo or video. When you are finished, select OK (or Retry, if necessary).
Select Done or Take Another.
Tap the Select upload destination field to select an archive. Make your selection and select Select this archive.
Scroll down to enter more information about the selected files, such as metadata, keywords, tags, and so on.
Select Upload.
A confirmation message appears when the files are successfully uploaded to the selected folder.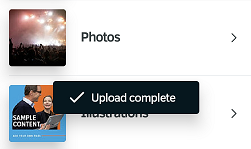 Tip: Your device must have Location activated for the upload to work correctly.