Enabling the InDesign extension on the computer
Last updated
After installing FotoWeb Desktop, enable the Adobe InDesign extension: Right-click the FotoWeb Desktop tray icon and choose Install FotoWeb Extension for Adobe InDesign...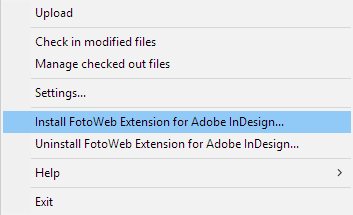 Note:
Your FotoWare site administrator needs to grant you InDesign Editor permissions through FotoWeb group membership before you can use the plugin.
You will need local administrative privileges on the computer to install the extension.
After the installation, the extension will be ready for use with InDesign.