Requesting Consent for Use
Last updated
Overview
After creating a consent form with that contains all the information you require, the users' consent is obtained either (1) using the FotoWare mobile app or (2) by sending out requests to sign from the consent forms management page in the FotoWare web interface. This topic explains both ways in which this can be done.
Obtaining Consent using FotoWare Mobile
Open FotoWare on your mobile device and log in to your FotoWare if not automatically logged in.
Tap the menu button at the top of the screen, next to your username, then choose Manage consent forms:
Tap on the + at the top right-hand side of the screen to create a new signature request and choose the consent form template to use for this consent.
Note that you cannot create the templates themselves in FotoWare mobile.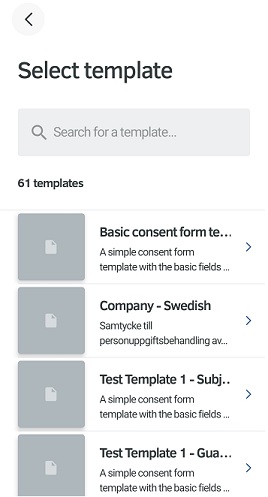 If the person signing the form wants to use his/her own device, have him scan the QR code that appears on the screen.
Alternatively,
you can have the person fill in and sign the form on your device, or
You can copy an invitation link to the clipboard and share it with everyone that needs to sign
you can share a link to the consent portal via email.
Important: The QR code and clipboard option can be used to collect signatures from several individuals. However, the email option creates an invitation that is unique to each recipient.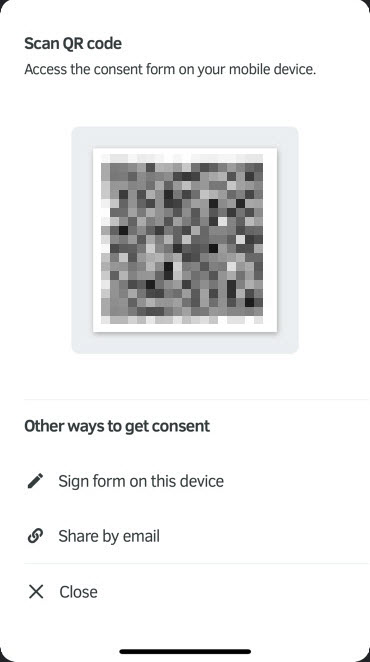 Requesting Consent from the FotoWare Web Interface
From the Tools (cogwheel) menu in FotoWare, choose Manage Consent Forms. Then press the Request signature button in the top right-hand corner of the consent forms page.
Choose the consent form template to use from the drop-down list and enter the email addresses of your recipients.
Finally, add any custom message to the email and click on Send.
You can verify whether the consent has been signed by locating the request on the consent forms management page.
Important: When using email invitations via the web interface as described here, each recipient gets a unique invitation to sign. Hence the link received in such emails cannot be used to collect consent from several individuals.