Enabling the FotoWeb extensions for Adobe Creative Suite
Last updated
LEGACY: This document describes legacy features.
This topic explains how to enable the FotoWeb Desktop Adobe Extensions on your computer after installing FotoWeb Desktop.
Adding the extension to Adobe Extension Manager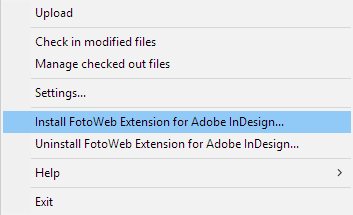 When FotoWeb Desktop has been installed on you computer, you will have access to the Uploader tool, the Office plugins and the Check-out and Check-in functionality from the web interface. However, if you know that your administrator has given you access to use the Adobe Creative Suite / Creative Cloud Extensions, these will have to be enabled manually after installation.
To enable the Adobe Extensions on your computer, right-click the FotoWeb Desktop icon in your system tray, open the Help menu and choose "Install FotoWeb for Adobe CS/CC" This will open the Adobe Extensions Manager and install the required components.
Mac users will find the same option by right-clicking (Ctrl-clicking) the FotoWeb Desktop icon in the status bar: