Regular activation of a FotoWare software product
Last updated
Having downloaded and installed a FotoWare software product, the product requires activation before it will run on the system.
Activating server software
FotoWare server products for Windows will require activation after the installation completes.
We recommend copying and pasting in the product key from the FotoWare license center on the website or from the email you received when obtaining product keys from the FotoWare website.
When pasting in the product key, make sure no additional spaces are included before or after the actual product key. A green checkmark next to the product key field is an indication that the product key format is correct. If the product key syntax is invalid, a red "stop" symbol will be shown.
Click OK to submit the entered product key and activate the software.
Note: The product key in the above screenshot is not a real activation key!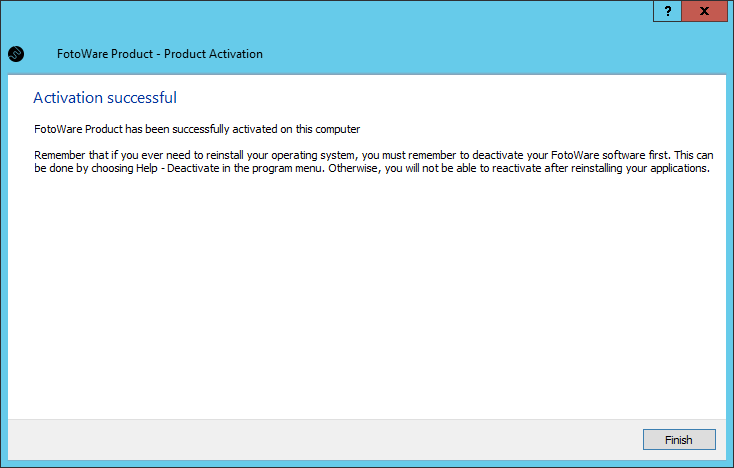 When the activation is completed, press Finish to exit the Activation Wizard and start using the software.
What if the activation wizard does not show after installation?
You can easily start the activation wizard manually: Go to the Windows start screen and start typing Activate Licenses. Then click on the Activate licenses shortcut when it appears and paste in the product key to activate the software.
You can also hit Start - Run and type in fwappactwiz. That's short for FotoWare Application Activation Wizard. When it opens, paste in the product key in the text field and click Next to activate it.
Activating FotoStation