Changing status labels and colors
Last updated
Learn how to change status labels and colors to suit your style of working..
Reassigning colors and labels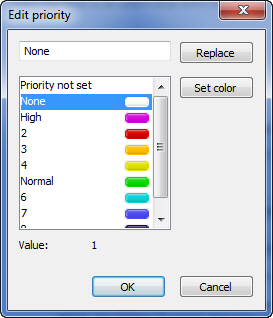 Status is a special metadata field with a value ranging from 1 to 8. The default labels and their color codes can be changed by clicking on the Edit status button in the Metadata configuration (by clicking on the Metadata node in the configuration tree). By selecting one of the status levels in the list you can replace the status label by typing a new value in the top text field and clicking on the Replace button. You can also change the color associated with the status level by clicking on the Set color button. When browsing thumbnails in FotoStation, a file's status is indicated by the colored strip below each thumbnail.
Tip: Keyboard shortcuts to set and filter by status are listed in the Keyboard Shortcuts Reference articles: