Creating an album
Last updated
What are albums?
Albums are collections that you can create and add content to from FotoWeb. You can assets from a number of archives into a single album. If you have permission to share albums, you can share with other users who have an account in FotoWeb or with external users by adding their email address to the invite list.
Video: Creating albums
For a brief introduction to creating an album, watch this video, or move on to written instructions below.
Creating an album and adding assets to it
The easiest way to create an album is to start selecting the files you want to add to an album and then clicking on the Add to album button in the action bar. This will allow you to create a new album or add the current selection of assets to an existing one.

A window appears where you can create a new album or start typing to find an existing album to add the assets to.
If you'd like to create a new, empty album, enter an album name and click on the blue + symbol to create it. Then click on the Add button to add your selected assets to this album.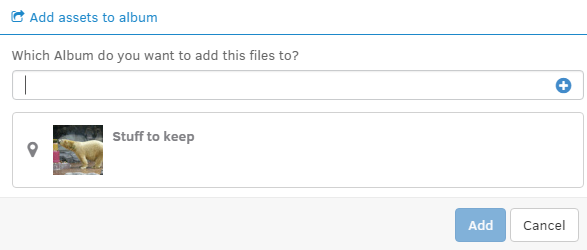 Creating empty albums in advance
The other method is to create empty albums in advance and then start selecting files to populate those albums with assets. To create new, empty albums, click on the Albums link in the top banner to access the Albums area (see below). Now click on the Create button to create a new empty album. This way you can create new, empty albums that you can add assets to later.