Registering a User Interface Integration in FotoWare
Last updated
To register a user interface integration, log on to your FotoWare and access the Site Configuration from the Tools menu (cogwheel icon) in the top right-hand corner of the window. To register an integration the logged-in user must be member of a group that has the Manage users and security permission.
Expand the Integrations node and choose Applications. There you will find a User Interface Integrations section, where you can add embedded UI's for the Quick Info, Asset Details and Preview area in FotoWare. Click on Create to set up the integration.
General settings
On the General tab, start by adding a Title and the URL to your integration. The URL can contain query parameters to search for e.g. the asset id in the connected system.
Then choose the Type that determines the area on the details page that the integration is added to. You can choose between Quick Info, Asset Details and Preview. Please consult the overview topic to learn what these areas are.
Filters
The Filters tab lets you control the file types that trigger the integration. This way, you can make the integration appear only when users preview certain types of assets.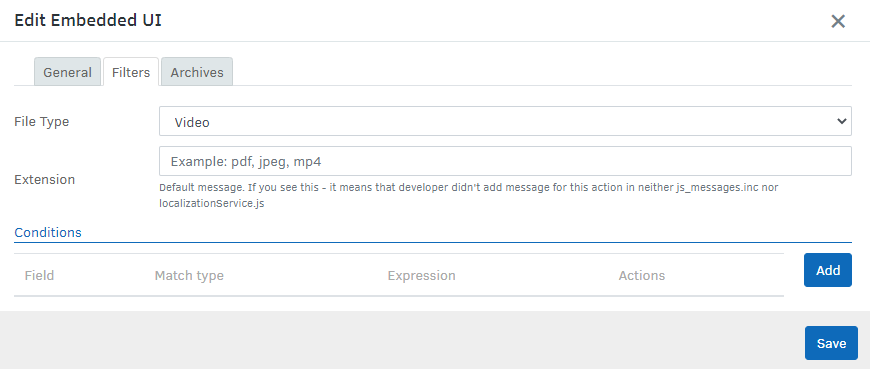 You can choose between Any filetype, Image, Video, Graphic, Document or Other.
To display the integration only for files with a specific extension, choose Any file type and add the file extension below. Multiple extensions can be separated using a comma and a space, as such: .ext, .ex2, .ex3
It is also possible to define additional conditions in a metadata field that must be met to display the integration. Pick a metadata field and the match type and fill in the expression that must be matched. Using regular expressions is also possible.
Archive Filter
Finally, the Archives tab makes it possible to define the archives where the integration should be used. By default, it is enabled in all archives, but you can use the radio buttons to include or exclude archives to suit your requirements.