Extracting metadata from input images
Last updated
How to enable extraction of XMP metadata to a text file from pictures processed in a channel.
Text extraction to file
Where: Channel | Metadata | Extract Text tab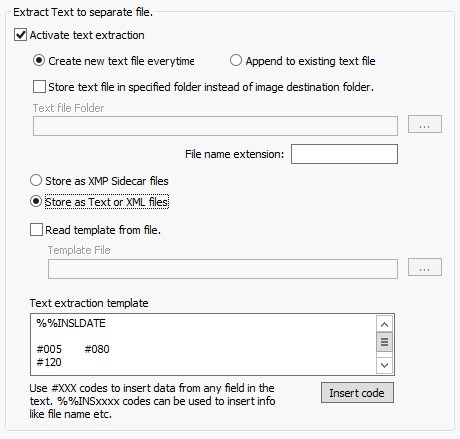 Color Factory lets you extract text from the input images and store the text file separately in either ASCII or XMP (XML) format. To do so, enable Activate text extraction and optionally choose to store the text files in a separate folder. Otherwise, the text file will be stored in the channel's output folder alongside the image.
Then choose between storing the text files in XML format, in which case all image text is extracted and stored, or as Text or XMP files, which means you must manually select the fields you wish to extract. You can either enter codes in the Text extraction field or choose to have Color Factory use an existing text file as an extraction template.
If you choose to store the text files as ASCII files, you can separate the different entries in a metadata bag field using a separator character; a semicolon, colon or a comma may be used as separator. If no separator is defined, Color Factory will separate the entries with a regular space character.
Example
Supposing you want to extract information from metadata field 020 - Supplemental Category - and separate the different entries with a semicolon, you would type #020; in the Text extraction template field.
What if you want to insert a tab or a new line in the template?
When editing the template, you may want to insert a tab character. Pressing the Tab key will simply move the focus in the Color Factory configuration away from the Text extraction template field, so to insert a tab you need to press Ctrl-Tab.
Inserting a new line is done by simply pressing Enter to add as many line shifts to the template as you would like.