Installing Index Manager
Last updated
Before installing or updating - Important!
If you are updating from an earlier version, you must stop all FotoWare-related services on the server:
Stop all running FotoWare programs
Open the Start Menu, choose Administrative Tools and then choose Services.
Locate and stop all FotoWare services.
It is advisable to back up your existing configuration before performing the upgrade. If you're running on a virtual server, it is you can make a snapshot of the system to allow reverting if you run into problems that render your system unavailable after the upgrade. If the software runs on a physical server you can back up the server using your server's backup software.
Important note for upgrading from version 7.0 to 8.0
FotoStation 8.0 requires Index Manager 8.0. It cannot connect to Index Manager 7.0.
Thus, in environments where you need to update both server and client to version 8.0 you should first update the Index Manager server and then migrate the client software. All version 7.0 clients (FotoStation, FotoWeb and Color Factory) will be able to connect to an Index Manager 8.0 server, but version 8.0 clients cannot connect to an Index Manager 7.0 server.
Installing Index Manager
Watch this video to see how to install and activate Index Manager and then create your first index. Scroll further down for written instructions and screenshots.
To make sure you're installing the latest version of Index Manager, download the latest version of the software from the FotoWare website (http://downloads.fotoware.com/)
When starting the installer, you may be prompted that additional components are required. If possible, these will be downloaded directly from the FotoWare website before the installation continues.
Tip: In the download section on the website you will find both web installers, hotfixes and offline installers (labeled "Complete installations") that can be used for installing the software on closed networks where internet access is not available. These contain all the additional required components. Typically the most recent builds (versions) are only available as web installers, so you can use an offline installer to get the required components in place and then update the version using the most recent web installer.
When you run the installer, it will first download any required components to the server. Click on the Install button to start downloading. If you are running an offline installer, these components will be bundled in the installer package and installed without requiring an Internet connection.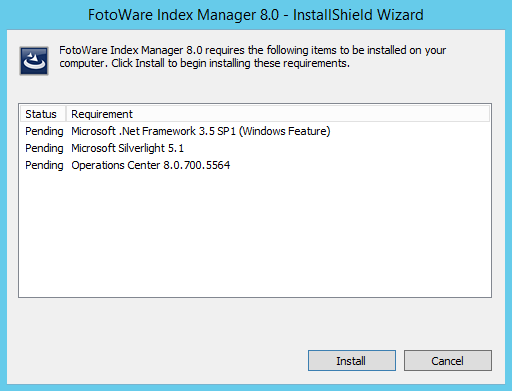 If this is the first FotoWare server application installed on the server, the FotoWare Operations Center will be installed. Simply click on Next to install it.
Finally, when all required components are installed, the Index Manager software will be installed:
When the installer finishes, there will be shortcut to the Operations Center on the desktop. Double-clicking this will open the Operations Center in a web browser and allow you to configure the services.