How to create an account in Customer Portal
Last updated
Creating an account in the FotoWare Customer Portal
Go to http://account.fotoware.com.
Enter your contact information and select Sign up.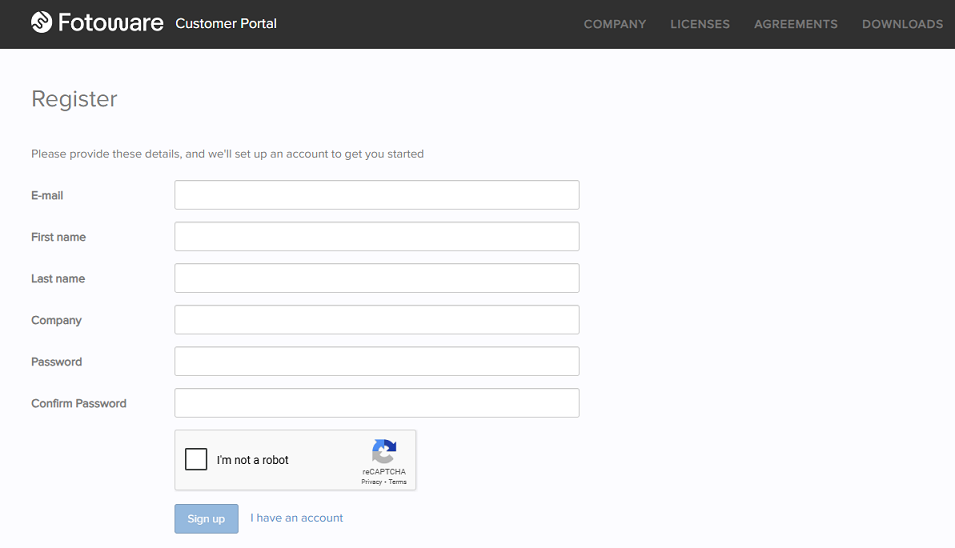 A confirmation is sent to your email address. If you do not receive the email within a couple of minutes, check your spam filter and add any addresses from fotoware.com to the spam filter's approved list.
Click the link in the email to activate your account. Upon activation, you will be logged on the site and asked to fill in some additional information.
Select Save. You have registered an account with FotoWare!
Your account page opens, as seen in the example below. You can now access the download center and other FotoWare services.
Tip: You can give other users access to your account, to do so, see Inviting other users to manage an SMA .
What to do if you change your email address
If you change your email address, you will need to register a new account on fotoware.com using the new email address. Before you do so, we recommend logging in using your old credentials and unsubscribing to any newsletters to avoid unnecessary emails being sent to your old address. Then follow the directions outlined above to create an account using your new email address.