Resetting your product key
Last updated
How to reset your product key if you need to reactivate your FotoWare software.
Symptom
During software activation, you may receive an error message that the maximum number of activations for the product key has been exceeded. This can happen, for example, if your computer crashes or you reinstall the operating system without deactivating the FotoWare software first.
Solution
You need to reset your product key to allow another activation. You can reset the product key yourself in the FotoWare Customer Portal:
Log in to the FotoWare Customer Portal (external link) and select Licenses to list all the available product keys on your account.
Select the product whose key you want to reset, then select Reset (outlined in red below) next to the product key to reset it.
In the view that opens, select why you need to reset the key and select Reset. A few seconds later, a message informs you that your key has been reset, and you can reactivate the software.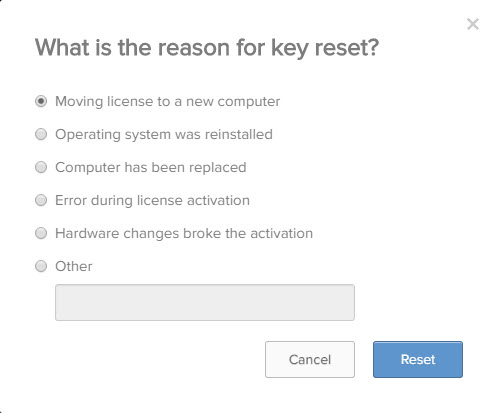 Note: FotoWare monitors the key reset service to prevent indiscriminate use. Attempting to release more than the licensed number or activations may lead to the key being blocked from further use.