Indexing Microsoft Office documents
Last updated
This topic explains how you configure Index Manager to index Microsoft Office documents (Word and PowerPoint). Index Manager will both index the document content to make it searchable and create thumbnails and previews of the document pages/slides.
How Microsoft Office document indexing works
Index Manager has built-in libraries that allow it to index Office documents. To enable it, you need to create an index and attach document folders containing Word and PowerPoint documents to that index . When scanning these documents, Index Manager will index their textual content and create thumbnails and previews to allow users to browse pages in FotoWare clients.
Preventing content extraction and preview generation for Office documents
If you don't want Index Manager to create previews and extract office document content to make it searchable, you can configure the following for each index:
In Index Manager Settings, open the Advanced tab for the relevant index.
Clear the Extract and Index Content for Office files checkbox.
Select Save.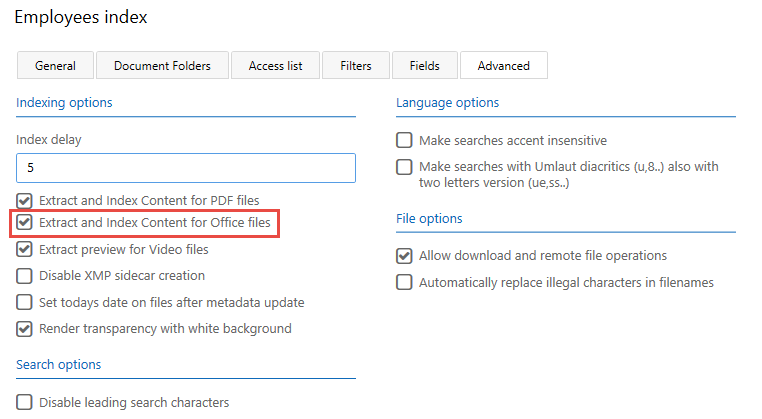 Excel spreadsheets
Index Manager also supports Excel documents out of the box. However, to add support for Excel spreadsheets in a FotoWeb version that has been updated from version 7.0, the existing filetypes.xml file in the FotoWeb Server configuration folder (C:\ProgramData\FotoWare\FotoWeb\Server Settings\Configuration) must be replaced with a new version:
Stop the FotoWeb service.
Move the FileTypes.xml file to another folder (or rename it).
Restart the FotoWeb services.
FotoWeb will then regenerate the filetypes.xml file with added support for Excel files. If errors pertaining to the filetypes.xml file show in the FotoWeb log, verify that a new filetypes.xml file has been added to the server configuration folder and then restart FotoWeb again.