Customizing the Rich List view
Last updated
This topic explains how to customize the Rich List view in FotoStation.
Customizing the Rich List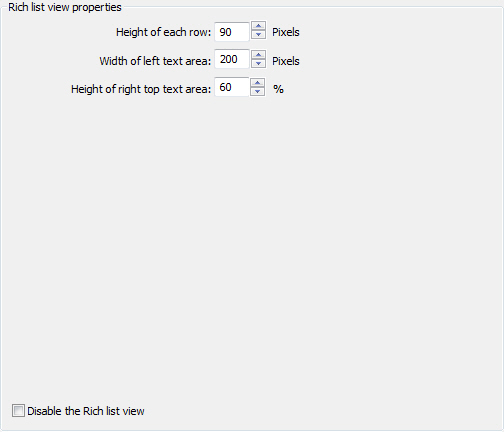 Clicking on the Rich List node under the Views node in the configuration tree lets you customize the size of the rows and columns in the Rich List view.
The Rich List view is built up of four text templates that define its contents. Their content can be altered and the Rich List view configuration lets you adjust the height and width of rows and text areas to accommodate the size of the text should you want to change the template content. Generally, however, if you do not alter the amount of information in the rich list templates, there is little need to resize the space allocated for the templates in this part of the program configuration. To see how the rich list templates are arranged and used, please refer to the Customizing Display Templates topic.
Height of each row: The size of each row can be set in pixels. Each row contains one file complete with its thumbnail and additional metadata.
Width of left text area: Set the size of the left text area here. The left text area is the area that contains file info such as file size and date, camera date, image size and resolution.
Height of right top text area: This is the size of the right text area containing the Caption by default.