Removing a site from FotoWeb
Last updated
A site can be removed using the FotoWeb Administration Console. Right-click the site icon and select Delete. This will display a dialog box with the options available for the deletion process.
Important: You should stop all FotoWeb services before deleting a site and start them after the deletion process is completed.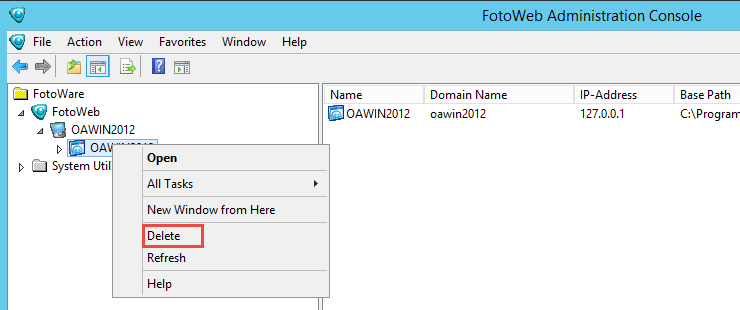 To remove the site entirely, check all the options. The options are discussed in detail below.
Delete the entire \sites\<sitename> directory structure from disk
This option will remove all the configuration files, templates and user folders for the site. The files will be permanently removed; they are not moved to the Recycle Bin.
Delete the virtual directory from IIS
This option will remove the /fotoweb virtual directory from IIS. You will be asked from which site you want to remove the folder, and you must make sure that you delete the folder from the correct site.
Drop the database used by the site
This option will instruct FotoWeb to drop the database. If the database server is on the same machine as FotoWeb, FotoWeb will make sure that the database files are deleted from disk. If the SQL server is on another machine you may have to delete the database files manually.
You must manually remove the site from IIS after deleting it from FotoWeb by right-clicking the web site in IIS Manager and selecting Delete. You must also manually delete the root folder from disk if it is not in use any more.
WARNING: There is no way to undo the deletion of a site. Making a backup of the site before deleting it may be a good idea.