Adding a frame to processed images
Last updated
How to add a frame to images processed in a channel.
Framing images
In Color Factory Settings, expand the relevant channel and select Pixel Edit.
Open the Frame tab.
The following dialog appears.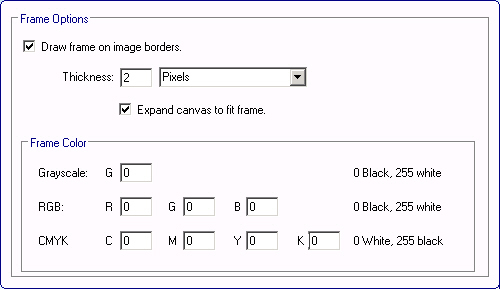 By setting your preferences on the Frame tab, you can add a border around the image. Depending on whether the output image is in Grayscale, RGB, or CMYK, you can set the preferred color of the frame by entering values in the corresponding fields. The border thickness can be set in an absolute pixel value, or in points with a given resolution of 72 points per inch.
Note that the frame will be added within the image border; the canvas will not be expanded to accommodate the frame unless you specifically choose the Expand canvas to fit frame option.