Configuring transfers to or from an Index Manager server
Last updated
Connect can both fetch files on an Index Manager server and it can send files to it over the FWP protocol.
When using Index Manager as a source, legacy Index Manager servers that do not support the FWP protocol still support file delivery to Connect over SMB.
Creating an Index Manager Server connection​
To configure the basic parameters for the Index Manager server, go to the Servers tab in the Connect configuration and click on the Plus icon to set up a new Index Manager server connection. You will be asked to specify a few general settings for the server before you can add archive searches to it.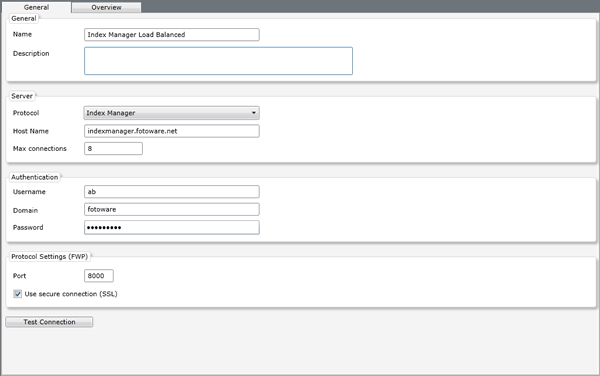 Name: Type in a short, descriptive name for the server
Description: If you would like to add a longer server description, this can be done here.
Protocol: Click on the drop-down list to expand it and choose Index Manager.
Host name: Type in the host name or IP address of the Index Manager server here.
Authentication: Type in the username and password required to log on to the Index Manager server. If your Index Manager has been set up with access lists for your indexes, the username chosen here will affect the archives you can use as your search input.
Protocol settings: By default FotoWare applications are configured to communicate on port 7000 over the FWP protocol. However, if your Index Manager has been configured to use another port (this setting is located in the Operations Center) you can choose the communications port manually here.
You may also choose to use a secure, encrypted connection (SSL), in which case you simply tick that option and set the port number used for secure communications. If you're uncertain about the port number used for secure communications you can check the setting in the Operations Center under the Server Settings tab.
Test connection: Having configured all of the above settings, clicking on Test Connection will attempt to connect to the Index Manager server and verify the user credentials.