Configuring email pickup
Last updated
How to configure a source mail account for email pickup.
Options for source mail accounts
If you want to use the mail account as a channel input, go to the Metadata config tab to set up the mapping of email content to metadata fields. This will allow you to extract the information in the message and store it as metadata in the XMP fields you specify.
Important: Field mapping is one-to-one, so each email field needs to be mapped to a unique XMP field. You cannot map all email information to a single XMP field.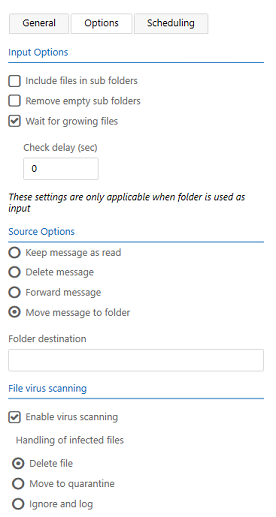 By proceeding to the Options tab, you can choose how Connect should handle the emails that have been processed. You can choose to delete them from the server, or you can leave them on the server and simply mark them as read, based on whether you're configuring a POP or an IMAP connection.
If you have enabled POP email pickup and SMTP sending, you will have the possibility to forward a copy of the message to a separate email address, using the Forward message option.
With an IMAP connection enabled for mail pickup and an SMTP connection turned on for outgoing emails, you can choose between marking the processed email as read to prevent it being processed again or deleting it altogether, or you can choose to move the email to another folder in the IMAP structure.
The Options tab also makes it possible to enable virus scanning for all files that are downloaded from the email server. The actual virus scanner settings are configured on the Service Options tab.