Managing consent
Last updated
Learn how to manage consent on an asset level.
In an archive, you can manage consent for one or several assets, as required. You can use manage consent to link assets to consent forms, request a signature, and mark or unmark an asset as not needing consent or needing more consent.
In the archive, locate and select the assets you would like to link with a consent form. You can select an individual asset or several.
When you select an individual asset, Manage Consent is displayed in the asset information pane beside the asset.
Note: If multiple forms are linked to the asset, the overall consent status will be set to the form with the most limited status.
When you select more than one asset, Manage consent is displayed as one of the options that appear underneath: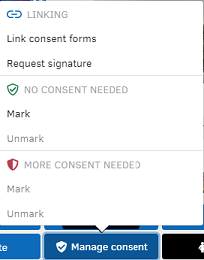 Select one of the following options to continue: